Dj's Outsourcing mobile application development architects and mobile team offering services in mobile application development on all mobile platforms like IOS and  Android. Team has delivered numerous of mobile applications since year 2011. Team expertise is not limited to developing mobile applications but also having end-2-end development capabilities. When it comes to business oriented mobile application then backhand plays very critical role in providing data to the app or getting data from the application. Mainly we are focus on Data Security when we develop data driven application. Our mobile application development team are creative & proficient enough to develop ios and android mobile apps and mobile web development for your mobile users.
Our experienced mobile application development team can make client idea turned into a great mobile application. We conduit the gap between cutting edge mobile technology and expenditure on mobile apps creation without hampering the quality of idea.
Dj's Outsourcing developer developed numbers of application of IOS and Android for mobiles and tablets.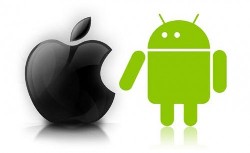 ➤MOBILE APPLICATION DEVELOPMENT SOLUTIONS

Team has experience in developing e-commerce, m-commerce, map based applications.
Team has developed iPhone applications using shopping cart, payment processing, and data security and integrated of application with website using Jason/REST/SOAP services.
Our mobile application development team is certified /skilled/responsible team which will bring your mobile application faster and low cost in the app market.
Dj's outsourcing is one of the emerging leaders and specialist in iPhone/iPad and Android based mobile and tab application development. Our developed application delivering process is very advance which save time and money for client's also implicit effort been taken to develop robust application.
➤WHY CHOOSE DJ'S OUTSOURCING SERVICES?
– Creative, cost effective, time-bound and quality mobile and tablet apps
– Hire mobile developers who are highly creative, skilled, trained & experienced
– A number of clients of offshore mobile development services in most parts of USA, Australia, India etc.
– You focus on your core competencies when we deal with your mobile application development