With hardly any publicity, PHP web development has swept the web. PHP is in style because it's relatively easy to learn and comparatively cheap to develop web projects. And in the other side, it's an open source technology and development cost is lower than the other technologies like java and dot net. We have an experience in developing high quality PHP and MySQL based web applications.
➤PHP's three key advantages over competing technologies:
Designed for the Web – PHP has built-in features to handle heavily trafficked sites and to simplify common Web programming tasks.
Ease of Use – Companies gain enhanced productivity of PHP web development teams and significantly reduced time-to-market of mission critical web applications.
Open Source – Collaborative development leads to rapid technology advancement, superior code quality, a massive library of prewritten code, and comprehensive developer support and documentation.
➤Our PHP Web Development Domain Expertise In:
• E-commerce Shopping Carts
• Social Networking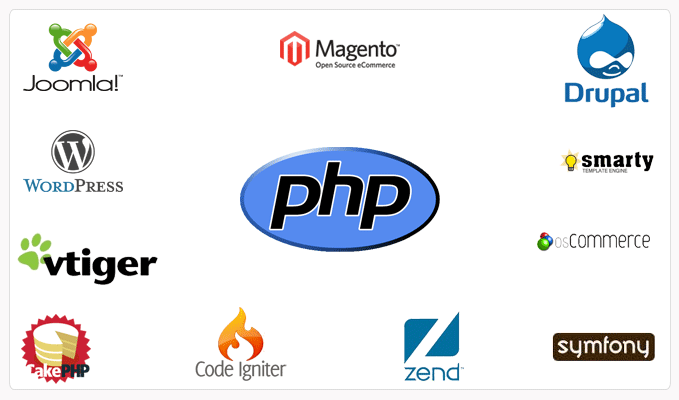 • RSS Feeds
• Blogs, Wikis and Internet Forums
• Messaging and Mailing Systems
• Custom CRM/ERP Solutions
• Content Management System
• Payment Gateway Integration
• Advertisement and Banner Management
• Integrated Search
➤Our core expertise with PHP lies with open source customization.
Open Source is a code / applications or scripts which is created by open community and available for free or under certain license agreement or at very low cost.
Depending on your project type and requirement if there are good quality open source solutions are available we may recommendation to go for it. It helps to reduce total costs of your project. The best part is most of the open source have flexibility to customize it as per ones requirement giving it personalize feel.
We are capable of doing possible customization and modifications in open source applications / scripts.
We have worked on many open source technologies which includes, CMS (Content Management System), ecommerce shopping carts, blogs, community services and variety of open source modules.
PHP developers at Dj's Outsourcing can work in Joomla, Magento, X-cart, Zen cart, OScommerce, WordPress, Dolphin Script, and Social Engine and so on. Learning a new tool is not a problem as most of the team is having more than years of experience.